Donate: Because 2020 is a Brand New Game!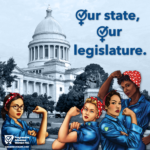 We are recruiting strong women, right here in Arkansas, who are smart, willing and able to run for public office. Not only are they motivated, they will do a better job for you!
We recruit candidates from all around the state, training and mentoring them, and connecting them to the resources they need to run a successful campaign. With your help, we will make a big difference in the 2020 elections.
Making change, especially in a state where attitudes are as deeply rooted as ours, takes time and money. But the times, they are a-changing. Please lend your support.
Here's How To Donate.
It's easy to set up a one-time or monthly donation via Raise the Money—just use the secure form below. Prefer to send a check instead? Just mail your donation to:
Progressive Arkansas Women PAC
904 W. 2nd Street, Suite 2
Little Rock, AR 72201
Want to share our donation link? Copy & paste this in an email or text message: https://progressivearwomen.org/donate/