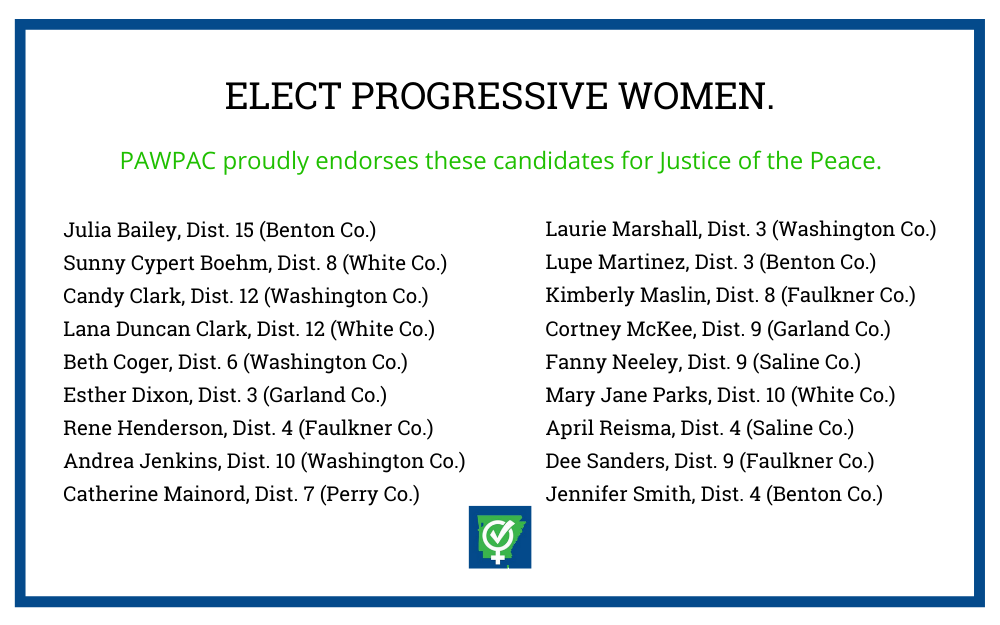 Progressive Arkansas Women PAC (PAWPAC) proudly endorses 14 women running for Justices of the Peace across the state:
Julia Bailey, District 15 (Benton County)
Sunny Cypert Boehm, Dist. 8 (White Co.)
Candy Clark, Dist. 12 (Washington Co.)
Lana Duncan Clark, Dist. 12 (White Co.)
Beth Coger, District 6 (Washington County)
Esther Dixon, District 3 (Garland County)
Rene Henderson, District 4 (Faulkner County)
Andrea Jenkins, District 10 (Washington County)
Catherine Mainord, District 7 (Perry County)
Laurie Marshall, District 3 (Washington County)
Lupe Martinez, Dist. 3 (Benton Co.)
Kimberly Maslin, District 8 (Faulkner County)
Cortney McKee, District 9 (Garland County)
Fanny Neeley, District 9 (Saline County)
Mary Jane Parks, District 10 (White County)
April Reisma, District 4 (Saline County)
Dee Sanders, District 9 (Faulkner County)
Jennifer Smith, District 4 (Benton County)
Justices of the Peace (JPs) serve as representatives of their district's residents in county government. The 18 candidates that PAWPAC has endorsed are committed to ensuring that the interests and concerns of their constituents, including those that are often overlooked, are represented.
JPs make up a county's quorum court, the legislative body of county government. Quorum courts are presided over by a county judge. JPs are elected to two-year terms and have responsibility for the conduct of county business. They levy taxes and appropriate public funds to pay the expenses of the county. JPs authorize contracts for the county, fill vacancies in elected county offices, and fix the number and compensation of county employees. In addition, JPs have several responsibilities related to maintaining peace, order, and security. They oversee flood control, long-range planning, and compliance with state and federal laws. Their most enjoyable function is performing marriage ceremonies.
A special thank you to Esther Dixon, Garland County JP, District 3, for contributing to this post.