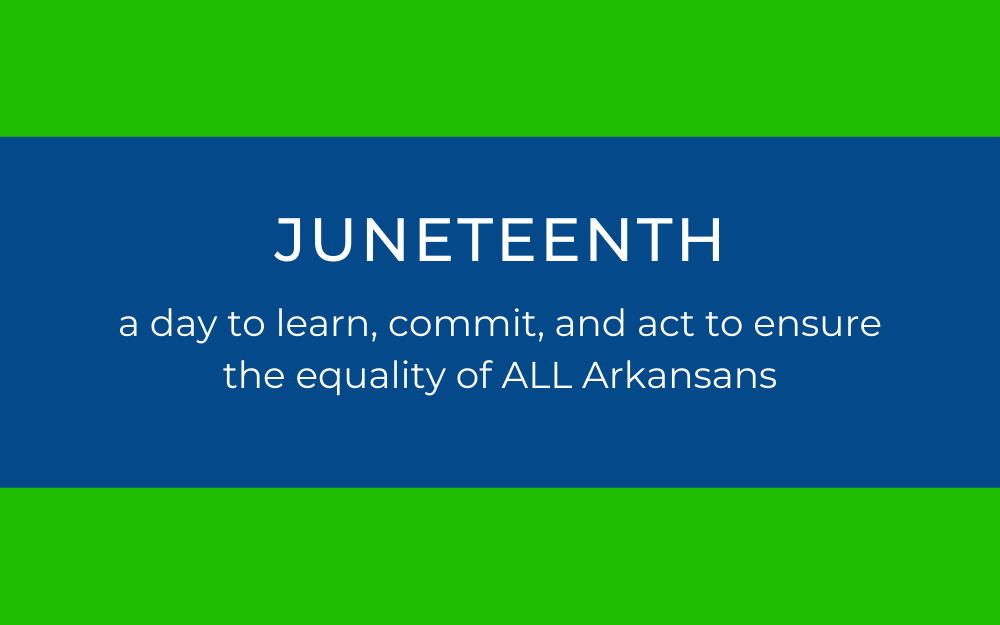 June 19, 2020, "Juneteenth," commemorates a historical, pivotal day in Arkansas and across the country—the freeing of enslaved African-Americans in our land. And while we honor this occasion, it's especially important to recognize there are systems in place that still keep Black people from having true freedom. Today is a day to learn, commit, and ACT to ensure the equality of ALL Arkansans.
LEARN
The first Juneteenth, June 19, 1866, called "Jubilee Day," celebrated the freeing of enslaved people in Texas, the last stronghold of Confederate slavery, who were freed June 19, 1865—two months after the end of the Civil War. Union soldiers in Galveston, Texas, led by General Gordon Granger, announced the Emancipation Proclamation, an executive order issued by President Abraham Lincoln, as Commander in Chief, which went into effect January 1, 1863. Only slaves in the Confederate states, Arkansas included, or those areas occupied by Union forces were freed. The remaining states freed their enslaved people by laws or state constitutional amendments. Ultimately the 13th Amendment to the U.S. Constitution was passed December 6, 1985, which "freed" all enslaved people in the U.S.
Arkansas lagged behind other states in any official recognition of the end of slavery. There is no record of any Arkansas Juneteenth celebration until the 1990s, according to Brian Rodgers of the Mosaic Templars Cultural Center. After that, several communities held celebrations.
Desara Grant, Director of Education at the Mosaic Templars Cultural Center, explains, "Freedom celebrations…often listed as Emancipation Day in historic newspapers…were recorded in Arkansas newspapers as early as 1870. Although not the same in name, and called different things based on the historical time period, the events ultimately celebrated the same event: freedom for enslaved people."
"Think of it in the same way that if you look in late 19th century newspapers, what we now call Memorial Day was then referred to as 'Decoration Day' because of the practice of decorating deceased soldiers' graves. Decoration Day and Memorial Day are the same holiday, but the names have changed over time. "
Arkansas finally passed a law in 2005 establishing "Juneteenth Independence Day":
(a) The third Saturday in June shall be known as "Juneteenth Independence Day" to commemorate the end of over two hundred (200) years of slavery in the United States of America and to demonstrate racial reconciliation and healing from the legacy of slavery.
(b) Juneteenth Independence Day shall not be a legal holiday but shall be a memorial day to be commemorated by the issuance of an appropriate proclamation by the Governor. Ark. Code Ann.§1-5-114. "Juneteenth Independence Day".
In the same legislative session, the Legislature passed "Confederate Flag Day," which modified a law that originally passed in 1957. It designates the Saturday immediately preceding Easter Sunday of each year as "Confederate Flag Day" in this state. Ark Code Ann. § 1-5-107. "Confederate Flag Day".
Even more problematic is that our state flag, by law, honors the Confederate States:
(b) The blue star above the word "ARKANSAS" is to commemorate the Confederate States of America. Ark. Code Ann. §1-4-101. "State flag".
Attempts to remove the blue star failed in 2020.
COMMIT
How can we celebrate today's Juneteenth? Commit to changing these racist emblems immediately. And, importantly, commit to working toward racial equity.
ACT
The Arkansas Juneteenth Independence Day law says how all Arkansans must act: "Commemorate the end of over two hundred (200) years of slavery in the United States of America…and demonstrate racial reconciliation and healing from the legacy of slavery."
PAWPAC urges you to remember and honor our fellow Arkansans who still suffer the legacy of slavery and to urge our Governor and legislators to do away with both the blue star on the Arkansas state flag and Confederate Flag Day and to make Juneteenth Independence Day an official holiday.
We must go even further and support and elect representatives who will enact public policies in the interest of racial justice. Check your voter registration, and make sure you're prepared to vote this November. Request an absentee ballot to ensure that you can vote safely. Volunteer. Donate. Support progressive women candidates who will lead us in the fight for racial justice.
Marcia Barners is a retired lawyer, current activist, former teacher, Progressive Arkansas Women PAC supporter, and 21st-century suffragist.