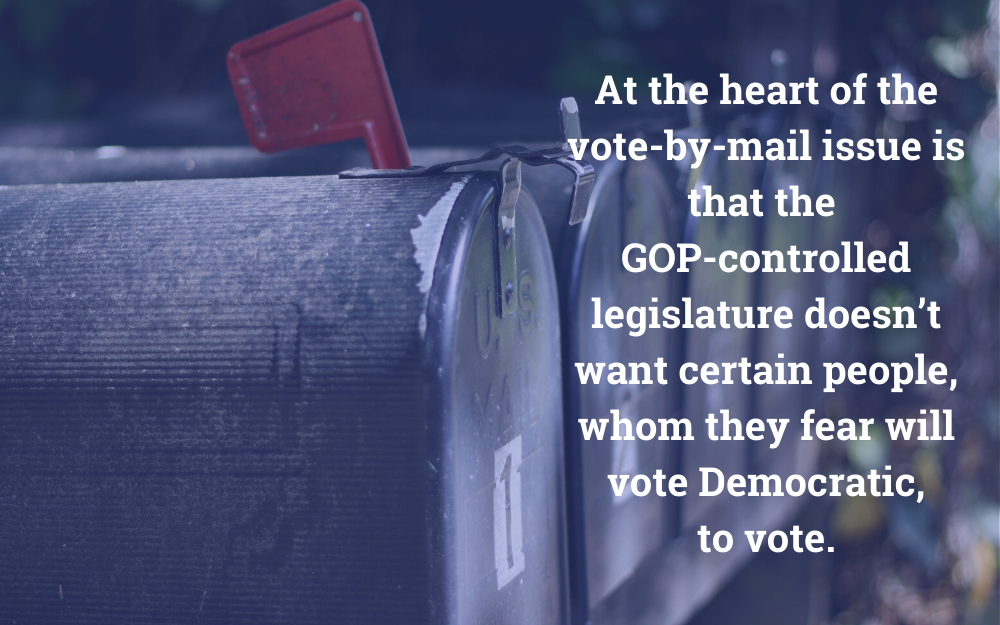 "Be Prepared," is a motto we've all heard before, and a motto most try to follow. Our world is dealing with a pandemic now. We weren't prepared for it. People are dying and, fortunately, some people are getting well. But we weren't prepared and not being prepared creates chaos—and fear.  We especially weren't prepared for voting during this time. What happened in the recent Wisconsin primary elections is a stark example of the lack of voting preparedness. 
Members of the Arkansas General Assembly Joint Budget Committee recently voted down a proposal for a modest change in state law to remove the requirement of an excuse to vote absentee (via mail). This minor, temporary change in state law would give our election officials time to PREPARE for voting during the pandemic by informing our voters of this option NOW rather than at the eleventh hour when it might be too late. We do not know what the situation will be like in the fall, so it makes sense to do something to prepare now.
We certainly don't want to live through what just happened in Wisconsin. And don't blame the courts for that fiasco. Blame their legislature; it was entirely their fault. https://www.washingtonpost.com/opinions/2020/04/11/dont-like-wisconsin-election-mess-dont-blame-courts/
As reported in the Washington Post: "This year, thanks to COVID-19, election officials received an unprecedented surge in absentee ballot requests. In all, roughly 1.3 million Wisconsin voters requested mail-in ballots—more than five times the nearly 250,000 who did so in April 2016. That surge created backlogs and delays, with some offices running short on envelopes. On election day, hundreds of polling places had to be closed because of health concerns, resulting in lengthy lines of mask-wearing voters waiting hours into the night. Governor Tony Evers, a Democrat, proposed a sensible solution: He asked the GOP-controlled legislature to pass legislation converting the election into an all-mail one that would count all ballots received by May 19. The legislature refused. The result was litigation and widespread condemnation of the results that the courts, including the U.S. Supreme Court, ultimately reached."
This may very well be the same situation Arkansas voters could face this fall thanks to the refusal to take any needed action by our GOP-controlled legislature. At the heart of the vote-by-mail or absentee voting issue is that the GOP-controlled legislature doesn't want certain people (whom they fear will vote Democratic) to vote. The claims of "voter fraud" are shallow memes for what they're really worried about—that more people would vote. Horrors!
If we remove the now-obligatory excuse to request a mail-in ballot, it does not remove the option to actually go to a poll and vote in person if that's the voter's choice. That will always be an option. Even in states where all voting is allowed by mail, there are still vote centers where voters can vote in person or drop off their completed ballot. Heck, some states even have "Pop-Up" voting centers.
The allegations of "fraud" in voting by mail are ridiculous and unfounded. Yes, fraud has occurred in times past, but corrupt officials also have "stuffed" ballot boxes, too. We're past that now. We've learned from the past how to prevent fraud, and now states have very strict laws on handling ballots from the polls and from the post office. 
Every state has some means to vote by mail. It's how our uniformed military, overseas citizens, and voters without the ability to travel to a polling place are able to vote, so it is nothing new. It's just that in Arkansas, for no good reason, an excuse has to be given.
So if we don't ensure that our state and county election officials are PREPARED for the voting chaos that is a real possibility come our November election, BLAME THE LEGISLATURE. GOP, you've been warned. We're going to hold you accountable.
Elect more progressive Arkansas women to the Arkansas legislature. We are PREPARED.